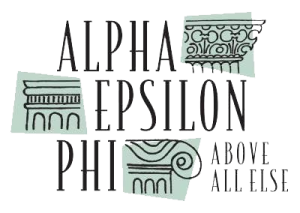 Alpha Epsilon Phi Sorority is pleased to join in partnership with Synagogue Connect to share information regarding opportunities for Jewish college students to worship in synagogues across the country, free of charge, for the High Holy Days.
We fully support Rabbi Ronald Brown and Rabbi Charles Klein in their efforts to connect unaffiliated Jewish students with houses of worship for the High Holy Days. This effort is commendable on so many levels as it helps maintain students' connections to the Jewish community and helps to preserve the continuity of the Jewish people.
Alpha Epsilon Phi's mission is to inspire and support exemplary women dedicated to friendship and a lifelong commitment to Alpha Epsilon Phi while building on the vision of our Jewish founders. More information about Alpha Epsilon Phi may be found at www.aephi.org.
Sincerely,
Deborah Friedman
National President
Bonnie R. Wunsch
Executive Director